Restart the day counter to one, and the date is 30th October 2016. All is well. We flew up from Cape town in a South African Airways Embraer 135. The branding was Airlink, but the sevice was the same high quality. Even though the flight was a short 2hrs they still found time to feed and water us. There was only one stewardess, but there were only a maximum of 37 passengers on the plane. With the leather seats arranged one and two across a single central isle, there was only space for a single stewardess. Have I given the impression that it was a small plane yet?
Take off confirmed it. A visibly steep climb angle, seen by either looking along the seat backs or out of the window. In next to no time we we approaching Windhoek International Airport. It is not serving a huge population and is therefore not required to be huge and complex itself. Quick as a flash we were through the formalities, with a new stamp in our passports, and on our way to pick up our trusty stead for the next nineteen days. A 4x4 pickup with a canopy. A Nissan NP300

The plane was a 37 seat Embraer 135 operated by South African Airways under the Airlink Banner. We walked down the steps to arrive in Namibia, our first touch, but no kissing of the ground.
A short walk across the apron and we were at the entrance to Hosea Kutako International Airport. We had been given the Arrival Forms to fill in by Your Safari Ltd but forgot to do so before leaving Cape Town, and it would have been inconvenient to have tried to find them on the plane even if we had remembered that we had them. So we waited patiently until we could borrow a pen from one of our fellow passengers. Not long and we were all through immigration.
You can read about picking up the car from Thrifty Car Rental but don't forget to come back.
On our way
Then we were on our way towards our first destination, the Trans Kalahari Inn. The Travelling Times page of the info pack states that it is 21km, on tar, and will take 20 minutes.
It was a very easy short hop. Get on the road to Windhoek from the airport and drive until you see the Trans Kalahari Inn on the right hand side.
Amazed about the scenery. Avoided the troupe of Baboons walking along the side of the road. They didn't even flinch as we drove by.
We turned off the tarred road into an impressive gateway. Click here for photo. We had truly arrived.
[Placeholder for video of road]
Continue on the journey with Trans Kalahari Inn - our first night in Namibia
Some Data about Namibia;-
Climate change infographic for Namibia 1901 - 2018, from #ShowYourStripes https://showyourstripes.info/
Statistical Tourist report 2016
The history of this land can be found carved into rock paintings found to the south and in Twyfelfontein, some dating back to 26,000 B.C. A long lineage of various groups including San Bushmen, Bantu herdsmen and finally the Himba, Herero and Nama tribes among others have been making this rugged land home for thousands of years.
Namibia became an independent state on March 21, 1990.
Conservation is a cornerstone of the Namibian experience.
Namibia was the first African country to incorporate protection of the environment into its constitution, and the government has reinforced this by giving its communities the opportunity and rights to manage their wildlife through communal conservancies.
Today, over 43% of Namibia's surface area is under conservation management. This includes national parks and reserves, communal and commercial conservancies, community forests, and private nature reserves.
Namibia is truly unique, influenced by various cultures during colonization and now reborn from the shadows of Apartheid in 1990. What has emerged is a true sense of unity in diversity, the coming together of at least 11 major ethnic groups, each celebrating their past while working together toward the future. You will notice this in dress, language, art, music, sport, food and religion.
Area: Namibia covers 824,292 sq km (318,259 sq mi).
Location: Situated on the southwestern coast of Africa, Namibia borders Angola and Zambia in the north, South Africa in the south and Botswana in the east.
Population: Slightly more than 2.3 million.
Capital City: Windhoek
Official name: Republic of Namibia
Date of Independence: 21 March 1990
System of Government: Multi-party Democracy
Head of State: President Dr Hage Geingob since 2015.
Prime Minister: Saara Kuugongelwa-Amadhila since 2015.
Language: English, German, Afrikaans, Oshiwambo, Rukwangari, Silozi, Otjiherero, Damara, Nama, Khisan and Setswana
Literacy: The current literacy rate in Namibia is about 83%, one of the highest in Africa.
Religion: Freedom of religion was adopted through Namibia's Bill of Fundamental Rights. About 90% of the population is Christian.
Currency: The Namibia Dollar (N$); the Namibia Dollar and South African Rand are the only legal tender in Namibia and can be used freely to purchase goods and services.
Time Zones: Summer time: GMT + 2 hours from the 1st Sunday in September to the 1st Sunday in April. Winter time: GMT + 1 hour from the 1st Sunday in April to the 1st Sunday in September.
Electricity: 220 volts AC, 50hz. Outlets are of the round three-pin type.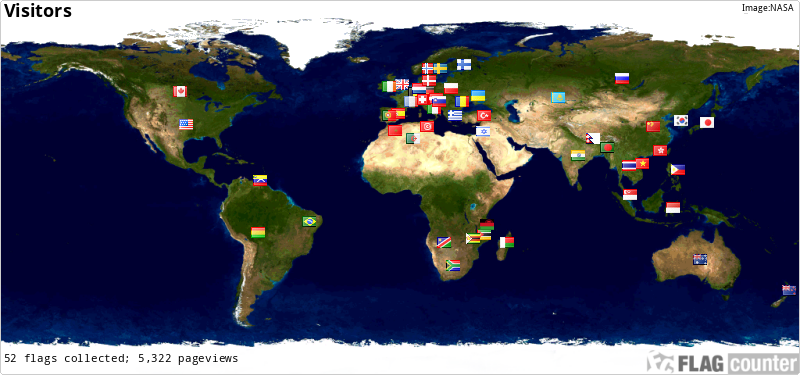 The flag counter below is for my original travelogue, which is slowly being replaced by this one, but can still be found here.
The next article in the series is 'Picking up the car from Thrifty Car Rental'